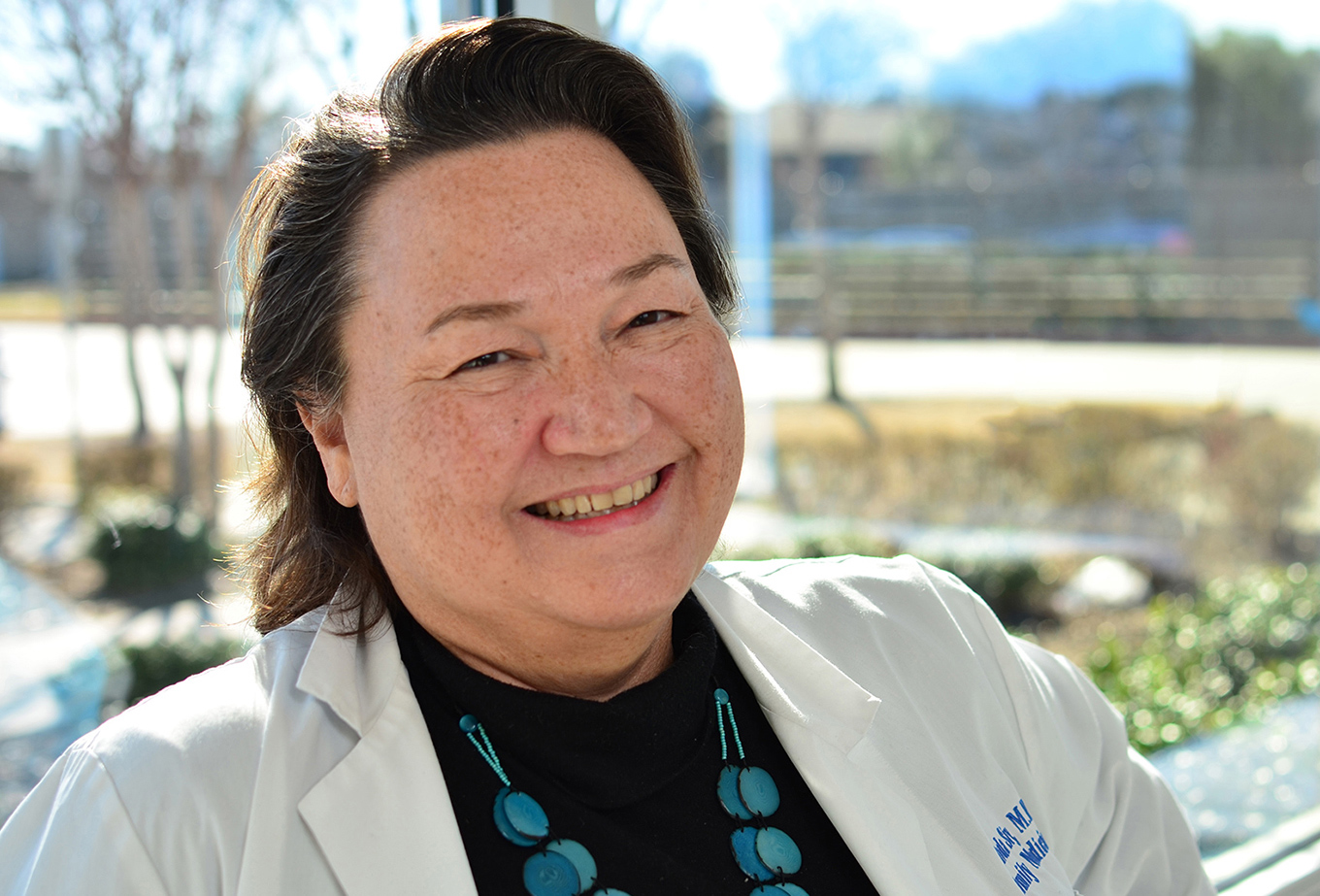 "We need to continue our focus on the youngest of our members, our students and residents, as they represent our future."
Linda Siy, MD
Clinician, teacher, leader, advocate, coach
Texas Family Physician of the Year
By Kate Alfano
---
Every family physician in the state has been positively influenced by Linda Siy, MD, TAFP's 2022 Texas Family Physician of the Year, whether or not you have ever met her. As a leader in organized medicine for 28 years through the Texas Academy of Family Physicians, American Academy of Family Physicians, Tarrant County Chapter of TAFP, Tarrant County Medical Society, and Texas Medical Association, she has been involved in more policymaking, advocacy efforts, and philanthropic initiatives than you could count.

Her list of leadership positions is long and decorated. She has served as TAFP president, TAFP Foundation president since 2017, and president of both the TCMS and the Tarrant County Chapter of TAFP, as well as on many TAFP and AAFP committees and councils. She was also elected by her peers to serve on the Acclaim Multispecialty Physician Group Board of Advisors at John Peter Smith Health Network.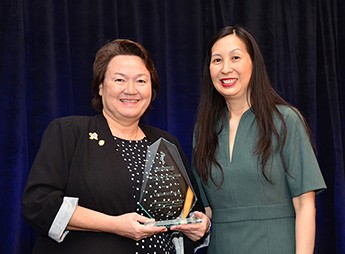 "Linda has used her skills to advance the mission of TAFP, TMA, and AAFP," wrote TAFP past president Justin Bartos, MD, in his letter nominating Siy for the award. "Whenever it is necessary for someone to step up and fill a role that requires extra time and energy, Linda's response seems to always be 'yes.'"
Jake Margo Jr., MD, another TAFP past president, wrote, "Whenever an important project or task arises, she's at the top of the list of members to involve, and she is quick to volunteer."
However, Siy's work in organized medicine – though great – isn't her most impactful method of influence. It is her ability to nurture the next generation of physicians and spark engagement in TAFP and AAFP in others. In this way, her influence extends far beyond herself to her colleagues, residents, and medical students.
When Siy was TCMS president in 2018, she wrote in her president's paragraph, "We need to continue our focus on the youngest of our members, our students and residents, as they represent our future. Instilling the important role of organized medicine now leaves a lasting impact on these younger members wherever they end up practicing. Training our students and residents to be involved and showing them the difference they are capable of making are critical to our success."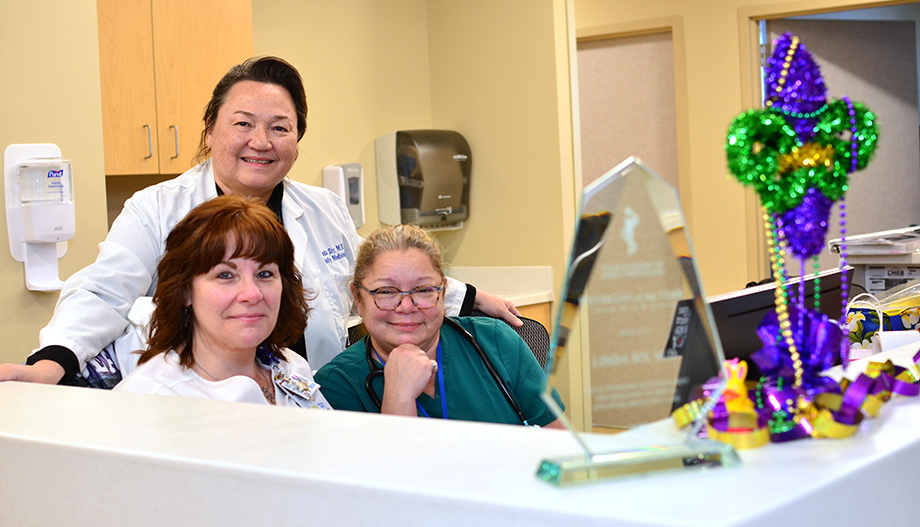 Margo further explained this gift of mentorship. "Her commitment to our organization extends beyond attending or chairing meetings. She also identifies and encourages young leaders, even taking the time to write personal notes to encourage them to continue to show up and stay involved. For the medical students attending her clerkship rotations, she goes out of her way to bring in practicing physicians, many of whom are TAFP and AAFP leaders, to give those future physicians just a taste of what family medicine has to offer."
Siy's time at TAFP began at the encouragement of another longtime TAFP and Tarrant County Chapter leader, the late Arnold Krause, MD. Siy started attending chapter meetings early in practice, and Krause encouraged her to enter the Tarrant County officer track and to attend TAFP meetings. If there was a vacancy in the former, larger model of the TAFP Board of Directors, Krause encouraged her to be seated as a delegate. He was chair of the CME committee and would ask her to introduce speakers. At AAFP meetings, Krause guided her through the Congress of Delegates, mentoring and introducing her to his contacts at the national level. Another AAFP and TAFP past president, Jim Martin, MD, also encouraged her to become more involved in both organizations.
Siy blazed an unconventional path to national leadership that has become a path for other great Texas leaders. She began as a delegate for Texas to the former AAFP National Conference of Woman, Minority and New Physicians, now the National Conference of Constituency Leaders, as a co-convener for the women's section and then convener of the conference and delegate for women in the AAFP Congress. She was also on the AAFP Committee for Special Constituencies and served as chair of that committee. In 2014, she was elected as alternate delegate for Texas.
"When I look back at how these things got started, I was encouraged to apply or asked to apply," Siy says. "I don't feel like I started out wanting to be delegate. I didn't have ambition in that regard but when I was asked to serve, I said yes. … I'm not one who wants to have my face out front. I think my influence and my skills are more leading from the background."
"When I served on nominating committee, we had the opportunity to put forth those who might not have applied otherwise," Siy says. "You look at the current set of officers at TAFP and it's incredibly diverse. If you go back many years, I don't know who else has the diversity of leadership that we do. … I'm not trying to take away from their innate ability and I'm not trying to say if not for me, they wouldn't be there, but I'm proud that we as a committee were able to put great people on the slate."
"Passion for our specialty, the drive to serve and commit our time and resources to the organization, and the ability to understand a wider array of perspectives of our members," these are the qualities Siy says she looks for when encouraging future leaders. "We are a membership organization and exist to help serve our members, their practices and, in turn, our patients. I like the term 'servant leader' as it embodies the type of leader we seek. Someone who desires to serve, not just because of their personal ambitions, but to serve for the sake of others."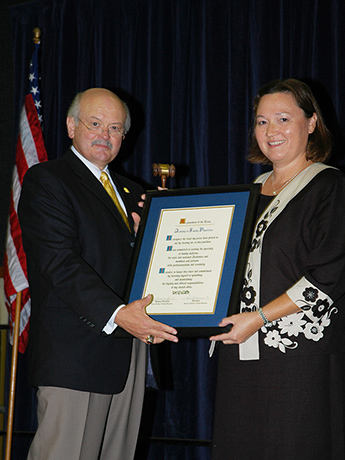 Many nominators wrote about her own servant leadership.
TAFP past president Bartos, wrote: "She is not pretentious or interested in personal accolades. She devotes her time, energy, and money to improving the lives of her patients and assuring physicians are able to provide the services necessary to accomplish this goal. She is an experienced leader with skills that have allowed her to overcome barriers that affected women in medicine and medical students' exposure to primary care."
Doug Curran, MD, TAFP and TMA past president wrote, "I have known Linda for over 30 years. She is truly one of the smartest and wisest physicians that I have collaborated with. She consistently brings a powerful, innovative perspective to so many issues surrounding health care. Her commitment and wisdom have benefitted our patients and our profession. Linda's personality and steady approach to issues makes her a great leader. She has never let up on her responsibilities as a member of our profession."
Shelley Kohlleppel, MD, a friend through TAFP and mentee said, "She leads by example. She is very good about pushing people."
She continued: "I have a lot going on in my life. I own my own practice [in Lake Hills, Texas] and it's a solo practice I started 10 years ago. At one point she knew I was getting burned out and she encouraged me to go through AAFP's wellness program. It was really nice, and it helped a lot. She just knows what people need. I have a feeling she does that for her patients. She has that compassionate heart, even though she's direct, that makes you know she cares."
Grant Fowler, MD, professor and chair of the Department of Family and Community Medicine at JPS Healthcare System and TCU School of Medicine, wrote: "If I had to describe Dr. Siy's leadership style, I would describe it as fearless and tenacious, especially when she is serving as an advocate. She is often willing to ask the question of fellow leaders, or even her bosses, that everyone else in the room is thinking about but afraid to ask! In so doing, she brings the issues out for full discussion and thoughtful solutions; Dr. Siy also doesn't give up until there is progress toward the solutions."
Siy grew up in Independence, Missouri, the second of four girls raised by an engineer father and nurse mother to believe they could do anything, sister Suzan Wiemers says. "Education was valued in our family," Siy says, "and it was never a question that we would go on to college and higher education. Our education was important and supported, and we were expected to do very well."
From an early age Siy excelled at science and math, and she said the sisters were all very competitive. In high school she had the opportunity to participate in an innovative program through the University of Missouri-Kansas City – Summer Scholars – that aimed to increase the number of applicants from underrepresented populations into health care professions. Siy's late father was a first-generation immigrant of China and though Asian women are no longer underrepresented in medicine, in the 1980s this qualified her for two summers of college prep classes in science enrichment including learning medical terminology, exposure to various aspects and professionals of the health care field, interviewing and personal development, and other skills she may not have learned in her regular high school curriculum.
At the end of high school, program administrators encouraged Siy to apply to another innovative program through UMKC School of Medicine that awarded a combined Bachelor of Arts degree and Doctorate in Medicine at the end of six years. Again, the program aimed to recruit students from underrepresented populations. "They invested in me and I had the academic background to qualify," Siy says.
Her medical education was team-based and partnership-focused. Each team had a senior partner who served for two years helping a junior partner in clinic and on rounds. This model helped tremendously when she entered residency at JPS and later as a practice leader and teacher.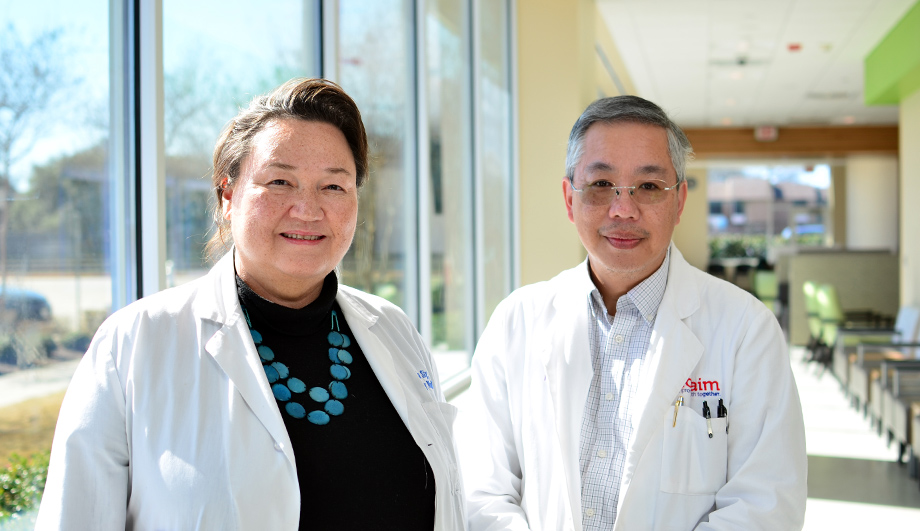 Leaving residency, Siy spent two years in locum tenens practice and emergency departments before getting a call from a former residency peer, Daniel Lum, MD, who was starting a new practice in northeast Tarrant County, between the towns of Hurst, Euless, and Bedford. She thought she would spend a year in practice with him and then go into private practice. Twenty-eight years later, she is still serving this community at the Northeast Community Health Center, part of the JPS Health Network, and the practice has grown to six physicians and four nurse practitioners.
"It's very challenging to work with the county patient population but it's very rewarding," Siy says. "Any little thing you do can have such an impact; there's a real need."
"I really believe that adage that people don't care how much you know until they know how much you care," Siy says. "My patients who have been with me for over two decades trust me because they know I care about them, not just their chronic disease."
Fowler of JPS wrote in a nomination letter about Siy's relationship with her patients. "Some of her patients have followed her the entire time; in fact, she now has multiple generations of patients. Obviously, they are very loyal. Most of her patients are from an underserved and indigent background. Many of her patients suffer from housing and food insecurity, as well as mental health and substance abuse problems. She is an especially strong advocate for children in Tarrant County."
He continued, "To practice in this setting, she is clearly capable of handling a large volume of very complex patients and yet she still finds time to teach. She always does this in a very caring, comprehensive and compassionate manner."
Siy's practice goes hand-in-hand with her teaching. She is a clinical assistant professor at the University of Texas Southwestern Medical Center, the University of North Texas Health Sciences Center and Texas Christian University School of Medicine. She also serves as a clinical preceptor to third-year medical students, clinical site director for UT Southwestern, and JPS site director for the family medicine clerkship at Texas College of Osteopathic Medicine. She always has a student with her, Bartos wrote.
Siy says, "I think sometimes students don't understand why I want to know about a patient's personal life, where they grew up, what they do for a living, who their family is, etc., when they come in as a new patient, because they are taught to get the medical history primarily, and the social history secondarily. To me, I want to get to know this patient as a person, too. Understanding their story is as important as understanding their medical problems."
Her students admire this approach to patient care. Samantha Hustak, a medical student at UNTHSC Texas College of Osteopathic Medicine, spent her eight-week clerkship with Siy. She wrote, "Dr. Siy's patient care was a very inspiring part of my third-year experience. She found a way to connect with every personality and age. She knew all her patients' family members and often provides care for multiple generations of families. She remembers the minor details such as patients' hobbies, where they work, where their parents work. The children adored Dr. Siy. They would giggle together, and she would genuinely ask about their friends at school."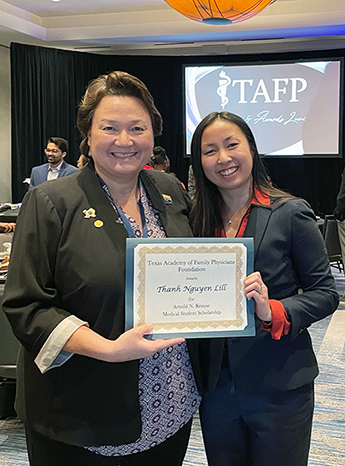 Another student who rotated with Siy, Thanh Nguyen Lill, MD, wrote, "In my family medicine residency interviews, it was not uncommon for me to bring up Dr. Siy as someone who inspired me and played a critical role in my decision to choose family medicine. I believe that many students who had the chance to rotate with her would say the same. Her rotation was different than other preceptors because she created an environment in which students were able to act as residents – coming up with diagnoses and management plans, writing notes, coordinating with other health care workers, responding to in-basket notifications, following up with patients. She incorporated me into the team and made family medicine fun. Not only do her students love her, but her patients, many who have been seeing her since she started working at JPS Northeast Clinic, also adore her. She is an excellent advocate for her patients, going above and beyond to provide individualistic care."
Yet another student who rotated with her, Jared Cloud, DO, said Siy was instrumental in his decision to pursue family medicine and influential in helping him obtain his position as family medicine resident at JPS. "What stands out about her is her hard work and passion for providing comprehensive care for her patients and education for her students. While on rotation with her, I could tell that all her patients loved her compassion and exceptional care for them as each one of them would sing her praises on a daily basis. She would take the time to involve her students in a deep dive into the medical complexities of each patient, providing a thorough education, and she would spend time with each patient making sure each concern was heard and fully addressed."
Cloud continued: "She has established herself as a role model to young physicians by passing on the knowledge she has gained and showing us countless times how to continue medical education even as an experienced physician. Her dedication to her patients and medical students is unparalleled, and I can personally say that my medical education and patient care would not be where it is today without Dr. Siy's guidance."
Not only does she directly influence medicine by teaching students, she is a fierce advocate and defender of family medicine. "Students aren't getting early exposure to family medicine in medical school. Family medicine resides in communities," Siy says; medical school teaches through subspecialty-heavy hospital settings.
"I believe most patients still value a personal family physician," she says. "They want to trust their doctor and know that their doctor truly cares about them as a person."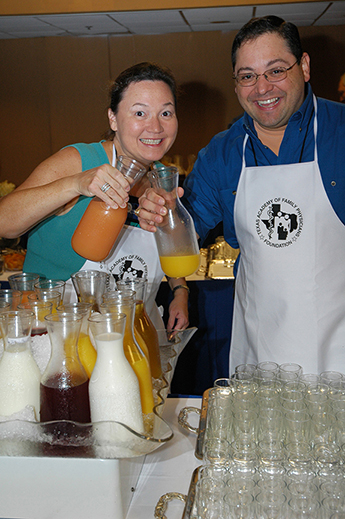 "Everybody in family medicine will tell you a story about when someone tried to dissuade them from going into family medicine," she says. "People who do family medicine like helping people. They like talking to people, getting to know people. They are nice and very social. They enjoy building relationships. I've met students who want to sit in a dark room and look at film. That's great, I say…don't be a family doctor," she quips. "My partner and I who have been teaching students know when we see someone who isn't a good fit for family medicine. They aren't comfortable building relationships. ['Family physician'] is definitely a personality type."
Of Siy's personality, Margo said, "she is curious and she has almost a childlike delight in things. She has the ability to enjoy people and the moment. Not everyone can do that."
Jonathan Nelson, longtime TAFP director of communications, says, "she's so smart and crafty and clever and witty and understated. She makes a joke and only the cleverest get it."
And Wiemers says of her sister, "Linda reminds me through life not to take things too seriously and it is important to spend time with family."
Helping people. Forging lasting relationships. Finding humor and joy in the small moments. Serving for the sake of others. Come on by a TAFP meeting and be inspired by Siy sometime, or else ask the many who have been touched by her leadership and service. Whether you realize it or not, you have been, too.
Contribute to the Linda Siy, MD, Medical Student Scholarship
Of Siy's work through the TAFP Foundation, TAFP Chief Operating Officer Kathy McCarthy says, "Dr. Siy's leadership in the Foundation has allowed us to support the future of the specialty through medical student scholarships. She gives through her own generous donations and encourages peers to donate, and also engages the medical students who receive Foundation support. In these ways she is invested in their success and is investing in the future of TAFP."
Honor this extraordinary family physician with a contribution to the newest scholarship from the TAFP Foundation, the Linda Siy, MD, Medical Student Scholarship. It honors Siy's legacy and service as TAFP Foundation president, as well as her dedication to the future of the specialty. Once fully funded, it will benefit medical students in Texas who aim to practice family medicine. Contact Kathy McCarthy at kmccarthy@tafp.org for more information or donate online at tafp.org/foundation.